2021 Dare2Bare Challenge - Details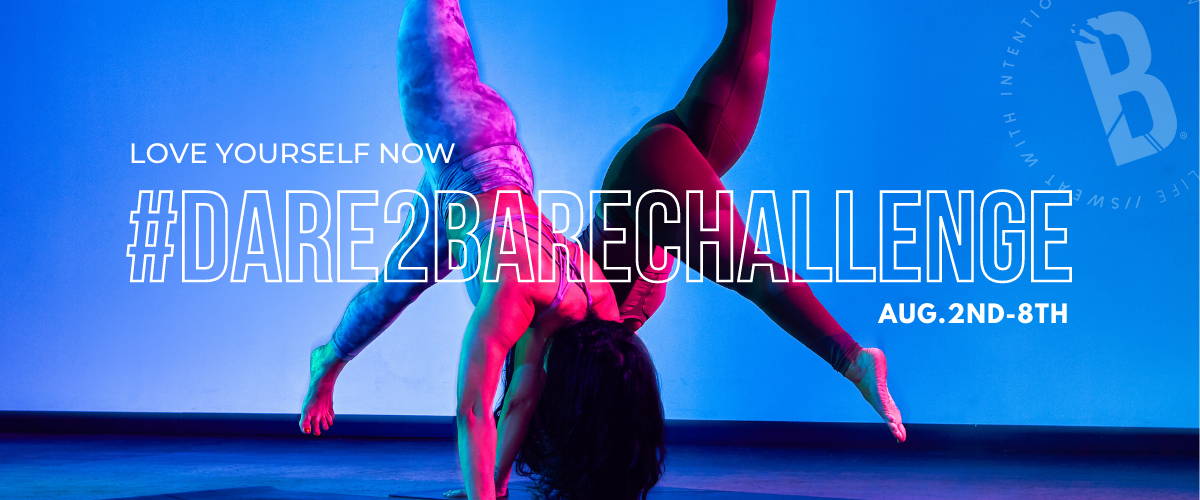 HERE'S HOW TO PARTICIPATE [+WIN] 🏆 :
1.  FOLLOW THE SPONSORS
       @butiyoga, @movenkd + @goldenrationutrition
2. SHARE THE #dare2barechallenge "I'M IN" TILE
This can be found on the @butiyoga Instagram page. 
3.  POST THE DAILY PROMPT TO YOUR INSTAGRAM ACCOUNT 
Post your response (pics or vids along with your caption) to our daily prompts- all 7 days of the challenge- on your public Instagram account. 
3.  TAG YOUR SPONSORS + USE HASHTAG
 Use the hashtag ##dare2barechallenge in each post. We encourage you to also post your vids/pics in your stories, tagging the sponsors & using the hashtag there, as well. This will increase your visibility & your chances of receiving a prize.
DAILY POSTS + WORKOUTS 🧘‍♀️: 
DAY 1 - MONDAY, AUGUST 2ND
SHAMELESS SELFIE
Who are you, really? What makes you distinctly YOU? Here at Buti, we value our collective for the wide array of individuals that comprise us. We encourage each member of our community to root fully into their individuality & to aim to become the most embodied, unique + authentic version of themselves. 
Buti helps you tap into the deepest parts of who you really are- it awakens your inner fire. Show & tell us who you are today, however that looks & feels to you.
TODAY'S WORKOUT:  Buti Tone 388 with Inga
DAY 2 - TUESDAY, AUGUST 3RD
PROVE YOUR SWEAT
Today is simple- show us how you leave it all on that mat. Don't let running mascara, flushed cheeks or sweat in your eyes stop you. One member of our online community told us she went so hard in a Buti workout that she sweat her fake eyelashes off. That's what we're looking for here, Buti fam- no holds barred. Show us your sweat & let us know how your workout went.
TODAY'S WORKOUT:   Live 53 Buti with Britt
DAY 3 - WEDNESDAY, AUGUST 4TH
WHAT NEEDS MORE LOVE?
What's the feature you find yourself judging or getting stuck in a negative thought pattern about? What do you currently do when you catch yourself in a downward spiral over it? Do you let it consume you or do you have a plan to pull yourself out?
TODAY'S WORKOUT:  Deep 25 with Bizzie
DAY 4 - THURSDAY, AUGUST 5TH
ACTUALLY INSPIRING INFLUENCERS
Share a pic & tag someone who TRULY inspires you on Instagram. The world of social media can be a difficult place to navigate- often we compare ourselves to others & end up feeling drained or less than rather than uplifted + encouraged. Tell us (also, tell them!)- who do you follow here on the gram who actually inspires & uses their platform to positively impact, influence & build up? 
TODAY'S WORKOUT:  REST DAY
DAY 5 - FRIDAY, AUGUST 6TH
SMASH YOUR SCALE
Mindfully, of course. OK, you don't have to get destructive, but wouldn't it be satisfying to at least destroy the mindset that you can be quantified by a number? There is a time + place for metrics, but it's definitely worth asking: do you use a scale- or is the scale using you?
Today we also ask you- what routines or practices make you feel truly great in your body (hint: if nothing comes to mind, keep showing up here!)? Also, if anyone out there is looking to literally smash their scale, we're here for it. 
TODAY'S WORKOUT: BUTI Tone 378 with Emily G
DAY 6 - SATURDAY, AUGUST 7TH
ALL IN A DAY'S WORK
We DARE you to bare it all in your bikini for one full hour doing daily tasks around the house. Vacuum. Do laundry. MOVE. Just be careful frying bacon. Today's the day to remember this- everyone's skin moves, bends + folds. It doesn't make you any less beautiful. Grab a time lapse video or a quick selfie- include how this day went in your caption. We want to hear all about it.
TODAY'S WORKOUT: Deep 26 with Tiffany
DAY 7 - SUNDAY, AUGUST 8TH
SHAMELESS SELFIE #2
This is the "after" edition. Whether you started this challenge to feel better in your skin, build confidence, or as a jumpstart toward your fitness goals, we are all finishing together as a supportive community. We are proud of you & hope you are proud of yourselves for completing this 7 day commitment. Show us your selfie & please tell us- how do you feel?
TODAY'S WORKOUT: Buti Tone 381 with Nani
🌟 GRAND PRIZES🌟


1-year Buti TV Subscription
Buti Yoga Certification 
$200 NKD Gift Card
$200 Golden Ratio Gift Card