2021 Primal Flow IG Challenge - Details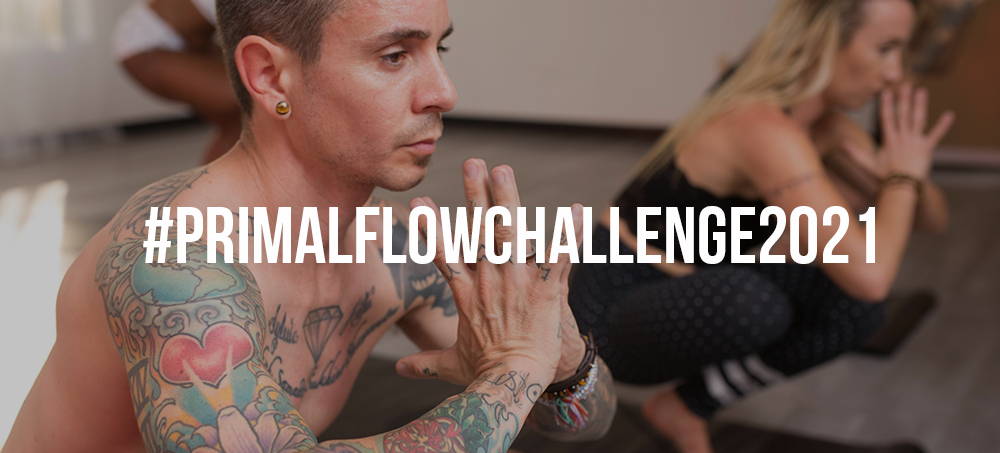 HERE'S HOW TO PARTICIPATE [+WIN] 🏆 :
DAILY HOSTS + PROMPTS 🧘‍♀️: 
DAY 1, MONDAY JUNE 7TH
HOSTED BY:  Anton Mackey @sovereignyogidad
Anton Mackey is the co-creator of Primal Flow.  He masterfully bridges the gap between the spiritual and the physical by weaving together the energy of the Divine Feminine & Sacred Masculine in all his classes. His teaching and guidance create a space for students to access their greatest creative potential while navigating beyond limitations and inspiring them to become Empowered, Connected, & Whole!
DAY 1 PROMPT:  SACRED SPACE – Post of a picture of you in a sacred place/space.
DAY 2 - TUESDAY JUNE 8TH
HOSTED BY:  Gretchen Herring  @g.primal.yogi
Gretchen Herring hails from the mountains of Pennsylvania, and has settled in Northern Virginia with her Husband, Son, and Dog. She is a Primal Flow Master Trainer, a 200 E-RYT, has a RYT program through Yoga Alliance, and founded The Yoga Experience (her Studio in Virginia). Gretchen uses Alchemy and the Elements in her practice to help students balance chakras and find peace within. Her mantra of finding comfort in the uncomfortable is the primary focus of all her class formats, and her biggest goal is to help people heal themselves from the inside out.
DAY 2 PROMPT:  AWAKENING – Post of a video of how you like to move your spine.
DAY 3 - WEDNESDAY, JUNE 9TH
HOSTED BY:  Crystal Cerrato @crystalcerratoyoga
Born and raised in Southern California, Crystal Cerrato is a Primal Flow Master Trainer, 500 RYT, YACEP, Mother, Wife and student of life. She is passionate about health optimization and breaking through the construct of limitations we place on ourselves. Crystal's classes are powerfully structured and fluid by nature, embodying, and uniting both Masculine and Feminine.
DAY 3 PROMPT:  MEDITATIVE FLOW – Post of a video of a Sun Salutation variation.
DAY 4 - THURSDAY, JUNE 10TH 
HOSTED BY:  Mark Longenecker  @marklongeneckeryoga
Mark has been both an artistic and active person his entire life.  From winning art contests at a young age to skateboarding, surfing, snowboarding, and martial arts.  He started his yoga journey at Bikram yoga.  After many years of hot yoga, he started venturing off and trying other styles of yoga. Mark has taken many classes, workshops, and yoga trainings with some amazing yogis.  Mark is really into Yoga festivals and tries his best to bring that creative vibe and energy into the yoga classes that he teaches.  Mark has also been a DJ for over 26 years and he loves incorporating music into his flows. Off the mat, Mark has dedicated his life to the art of tattooing.  He owns Endless Summer Tattoo in downtown Cocoa Beach, FL. He became a semi-finalist competing on the hit TV show Ink Master Season 5.  Mark loves finding creative ways to combine all his passions together.
DAY 4 PROMPT:  HOLD SPACE – Post of a picture of a challenging pose to hold for 1 minute.
DAY 5 - FRIDAY, JUNE 11TH 
HOSTED BY:  Natalie Crandall  @natalierosemvmnt
Natalie Crandall is a professional dancer, Dance Vision Educator, KINRGY Guide, and a 200hr Yoga Teacher specializing in Primal Flow. Taking her deep understanding of dance & movement and combining it with her studies in energetics & magic Natalie guides individuals toward feeling fully embodied. Natalie believes that movement + magic is the ultimate medicine and is on a mission to guide others back into their body so they can experience life intuitively and authentically
DAY 5 PROMPT:  RELEASE – Post of a video of you surrendering your mind to your body and shaking it ALL out.
DAY 6 - SATURDAY, JUNE 12TH 
HOSTED BY:  Kaycee Veilleux  @move_with_kayceev
Kaycee Veilleux hails from St. Louis, MO.  She is a wife and mama to two incredible little humans.  Kaycee has been teaching yoga since 2014.  When Kaycee discovered Primal Flow, she felt it was the perfect balance of everything she was currently teaching, and she fell in love instantly.
PROMPT:  GROUNDING – Post of a picture of your favorite yin-like posture. 
DAY 7 - SUNDAY, JUNE 13TH
HOSTED BY:  Aubrey Anna Marie  @aubreyannamarie
Aubrey AKA Mama Aubs is a 500 RYT, a Primal Flow Master Trainer and has been immersed in the Buti world since 2014.  Aubrey is committed to providing a space and practice where everyone is welcome.  Her goal is for her students to have fun while challenging themselves and to not take things to seriously.  Her classes promise to be filled with laughs, creative yet safe movement, great music, focus, and awareness of breath and lots and lots of sweat.  Her Motto: Make goals... but love yourself now and enjoy every moment of the journey.  
PROMPT:  SURRENDER – Post of a picture of how you surrender.
🌟 GRAND PRIZES🌟r 


Primal Flow Certification
Primal Flow DVD
Primal Flow T-Shirt + Sticker