2022 Love Yourself Now Challenge - Details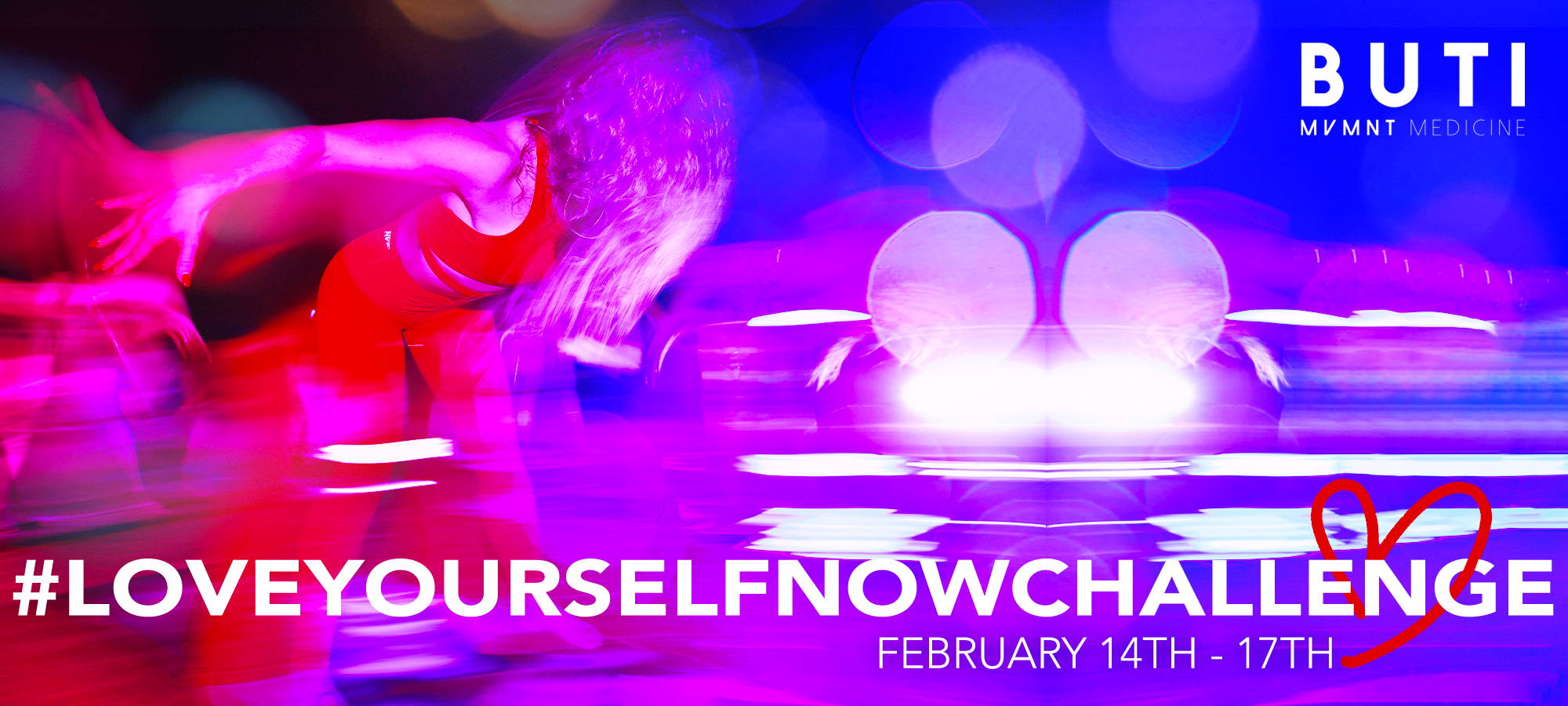 HERE'S HOW TO PARTICIPATE [+WIN]
🏆 :
HOW TO PARTICIPATE [+WIN]:
1.  FOLLOW THE SPONSOR + MASTER TRAINER HOSTS ON INSTAGRAM
@butimvmnt, @wildly_emily_lynn, @namastandi, @nanimoves + @freespirit_tiffany
2. REPOST THE #LOVEYOURSELFNOWCHALLENGE "I'M IN" TILE TO YOUR FEED
Post to your feed, not your stories. This can be found on the @butimvmnt Instagram page. 
3.  POST THE DAILY PROMPT TO YOUR INSTAGRAM ACCOUNT 
 Post a picture or video of you as it relates to the prompt on your public Instagram account and answer the prompt in your caption.
4.  TAG @BUTIMVMNT + USE HASHTAG
 Use the hashtag #LOVEYOURSELFNOWCHALLENGE in each post. We encourage you to share your post in your stories, tagging @butimvmnt + using the hashtag. This will increase your visibility + your chances of receiving a prize.
5.  WINNERS ANNOUNCED SATURDAY, FEBRUARY 19TH.
 Be sure to check the @butimvmnt Instagram page + your email.
DAILY WORKOUTS + PROMPTS: 
*Workouts will be live starting midnight PST on February 14th*

DAY 1 - MONDAY, FEBRUARY 14TH
Write a letter to your teen self giving yourself the advice/pep-talk you needed then.

HOST: EMILY GONZALEZ
WORKOUT OF THE DAY: Sculpt 30 with Emily Gonzalez
DAY 2 - TUESDAY, FEBRUARY 15TH
When you're having a "low" day (we all have them) what are some ways you shift the energy? How do you rephrase negative self-talk during these times? Turn that into your new mantra. 
HOST: ANDI CARROLL

WORKOUT OF THE DAY: Buti Tone 367 with Andi Carroll

DAY 3 - WEDNESDAY, FEBRUARY 16TH
Write a poem about something that you love about yourself. If your initial reaction is that you can't find something you love about yourself, please refer to your new mantra from day 2.
HOST: NANI BERGER
WORKOUT OF THE DAY: Primal Flow 15 with Nani Berger
DAY 4 - THURSDAY, FEBRUARY 17TH
Record yourself saying why you are proud to be who you are and why you are amazing. Refer back to this when you need the reminder. 
HOST: TIFFANY BASKETT
REST DAY: Live IG Meditation with Tiffany Baskett at 8am PST/11am EST
DAY 5 - FRIDAY, FEBRUARY 18TH
GRAIN + DAIRY FREE RECIPES: 
RECIPE #1: Pineapple Chicken Kabobs
Prep Time: 10 min
Cook Time: 30 min 
Servings: ​4
Kabobs:
3-4 boneless, skinless chicken breasts
1 cup sliced pineapple chunks
Veggies (mushrooms and peppers, or any you have on hand)
Marinade:
3 tablespoons coconut aminos
3 tablespoons coconut vinegar
2 tablespoons raw honey
2 tablespoons olive oil
1 garlic clove, crushed
1. Cut chicken into chunks.
2. Combine coconut aminos, coconut vinegar, honey, oil and garlic in a small bowl and mix well. 
3. Put chicken (and veggies, if marinating) into a dish and our marinade over top of the chicken. Stir to coat. Cover and refrigerate for at least 1 hour. 
4. Secure the chicken on skewers. Alternate with pineapple chunks and veggies. 
5. Place kabobs on grill or under broiler for 10 min per side. 
RECIPE #2: Stuffed Portobello
Prep Time: 5 min
Cook Time: 16 min 
Servings: ​4
2 chicken apple sausages
4 cups spinach
2 portobello caps
2 tablespoons olive oil
1. Preheat the oven to 400 degrees.
2. Cut chicken sausage and place in blender with the spinach and olive oil until you get a crumbly consistency.
3. Take the portobello caps and remove stem and wash.
4. Drizzle caps with olive oil and bake for 10 minutes.
5. Remove portobello cap from oven and put chicken sausage and spinach mix inside of the caps.
6. Bake for another 6 minutes.
7. Remove and top with any fresh herbs on hand.
RECIPE #3: Paleo Taco Night
Prep Time: 10 min
Cook Time: 10 min 
Servings: ​4
1 lb ground beef
4 avocados
1 head iceberg lettuce
1 bunch of cilantro
2 tomatoes
2 garlic cloves (minced) 
1 tablespoon coconut oil
1 teaspoon sea salt
Lime juice
Salsa + Dairy-Free Cheese for topping (optional)
1. Sauté ground beef in pan with oil over med-high heat. Turn to low and let simmer while you chop ingredients.
2. In a mixing bowl, scoop out flesh of avocados + sprinkle with lime juice to taste. Add garlic, sea salt and mash to form guacamole. 
3. On a cutting board, dice tomatoes and cilantro.
4. Make cups with iceberg lettuce. Top cups with meat, guac, fresh tomatoes and cilantro. Add salsa if you like - enjoy!
RECIPE #4: Turkey Meatballs
Prep Time: 5 min
Cook Time: 25 min 
Servings: ​4
1 lb ground turkey
3 tablespoons sea salt
1-2 teaspoon dried garlic
1 tablespoon coconut aminos
1/2 cup almond meal
1 tablespoon turmeric
Coconut or olive oil
1. Preheat oven to 400 degrees. 
2. In a large mixing bowl, add ground turkey, sea salt to taste, dried garlic to taste, almond meal and coconut aminos. 
3. Mix all ingredients together and roll into small meatballs. 
4. Grease a baking pan with olive or coconut oil. 
5. Place meatballs on the baking pan and bake for 25 minutes.
6. Be sure to check halfway through to flip the meatballs over. 

RECIPE #5: Paleo Chocolate Pudding
Prep Time: 2 min
Cook Time: 5 min 
Servings: ​4
1 1/2 cups organic coconut cream from a can

1/2 cup raw cacao powder or unsweetened cocoa powder, sifted
6 - 8 tablespoons pure maple syrup depending on how sweet you want it
2 teaspoons pure vanilla extract
Generous pinch fine grain sea salt
1. In a small saucepan over low heat, whisk together the coconut cream, cacao and maple syrup until smooth.
2. The coconut cream will melt and the maple and cacao should combine well to create a smooth silky mixture. Continue to cook and stir over low/med heat for about 2 minutes, or until the mixture just begins to come to a boil with small bubbles.
3. Remove from heat and stir in the salt and vanilla.  You can pour the mixture into a large bowl or  individual containers/bowls to chill and set. 
4. Cover and refrigerate until set, or overnight for a thick creamy pudding. Top with your favorite berries!
Buti Certification of Choice

Annual Buti TV Subscription
$200 Gift Card to Buti Yoga
There will also be a special gift just for taking this journey with us. Make sure to check your emails after the challenge.