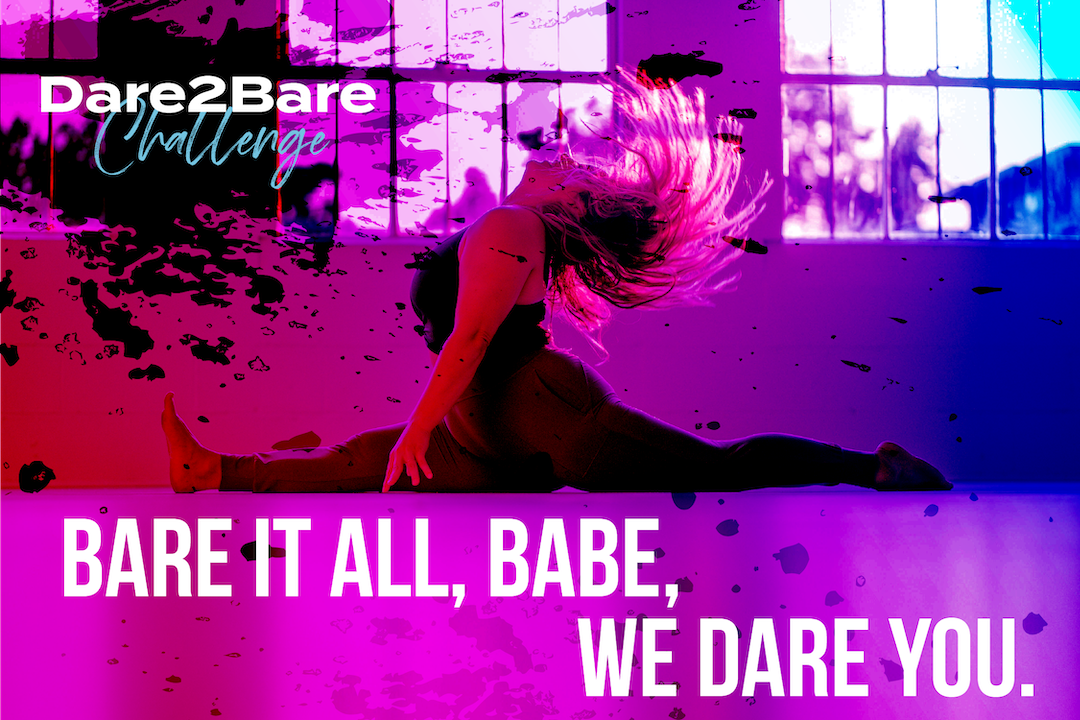 Welcome to our 2023 #DARE2BARECHALLENGE!
It's back, fam. We are pumped to announce the return of our annual FREE Wellness Challenge, Dare 2 Bare! Through a series of daily prompts, recipes + workouts, you can ignite your power and access radical self-acceptance. In seven days, you can celebrate community and transform as a collective on a journey to wellness, the Buti way.
For each day of the #DARE2BARECHALLENGE you'll need to complete the following:
1. Complete the daily challenge and post to Instagram.
2. Tag @butimvmnt + use the hashtag #DARE2BARECHALLENGE.
Bonus: For extra visibility, share your post to your story, tag us and use our hashtag.
3. Make sure your Instagram profile is set to public so we can see your posts!
The challenge is made up of an intentional mix of mindfulness, physical activity, bold action items and some seriously delicious (and nutritious!) meals. Below are the juicy details for each day of the challenge so you can pencil in your participation + prepare accordingly.
Make sure to prep your grocery list over the weekend + be ready for a nourishing (and fun!) week of courageously loving yourself. Also, keep an eye on your inbox for our daily reminders each morning once the challenge begins on August 7. Finally, above all, let's DARE 2 BARE, babe!
What would a Buti challenge be without some impressive giveaways. Participate in all 7 days + enter to win some badass prizes including:
$200 gift card for ButiYoga.com
Free Certification of choice (up to $875 value)
Buti TV One year subscription ($399 value)
Here's what you can expect for each (epic) day of #DARE2BARECHALLENGE
*Workouts on Buti TV will be live starting midnight MST on August 6th*

DAY 1 // SHAMELESS SELFIE
Leave the shame behind and cherish your authenticity. In other words, show us who you REALLY are. Snap a pic that embodies your true self — no matter what that means. Celebrate the good, the not-so-good and all the things in between. In our Buti community, we encourage each member to root wholly into their individuality and aim to become the most embodied, unique + authentic version of themselves.
BUTI TV WORKOUT: Buti with Nani Berger
DAY 2 // PROVE YOUR SWEAT
Today is simple (and sweaty!). We want to see your beautiful and sweaty face after your Buti workout. No need to freshen up, fix your hair or dry off — nope. We want the unfiltered, authentic you — sweat and all!
BUTI TV WORKOUT: Buti Yoga 493 with Heather Phillips
DAY 3 // WHAT NEEDS MORE LOVE?
Let's focus on the parts of us that need more loving attention. We all have THAT something that doesn't get enough positive energy. Today, we challenge you to snap a pic of your special feature + give it some extra (EXTRA) love through mindful attention and positive energy.
BUTI TV WORKOUT: DEEP 41 with Britt Hodgen
DAY 4 // WHO ACTUALLY INSPIRES YOU?
Share a pic and tag someone who truly inspires you! This can be a bestie, family member or a stranger who has a badass + uplifting Instagram account. Let us (and them!) know WHY they inspire you.
NO WORKOUT TODAY! Enjoy a rest.
DAY 5 // SMASH YOUR SCALE
It's time to SMASH your scale — metaphorically, of course! Instead of throwing your scale against the wall, let's focus on destroying the mindset surrounding the dreaded scale. You are MORE THAN A NUMBER, babe. Let today, and everyday, be a reminder of that. This prompt is about recognizing what routines and practices make you feel AMAZING in your body. Whether it be dancing, meditating, writing or reading — whatever feels good to you, we want to see it! Show us a pic or video of you and your loving routines + practices. Also, if anyone out there is looking to literally smash their scale, we're totally here for it!
BUTI TV WORKOUT: Buti with Inga Seals

DAY 6 // ALL IN A DAY'S WORK
We DARE you to BARE it all, babe! Throw on your favorite bikini and spend one hour doing things around the house. Whether that's laundry, vacuuming, making breakfast (maybe avoid frying bacon?) or lounging around, we want to see your beautiful skin. We all have bodies that move, fold and bend, making us unique and beautiful. Today, we encourage you to own that beauty by making a time-lapse video or a quick selfie to share on the gram – include how you felt in your bikini doing mundane tasks in your caption. We want to hear all about it!
BUTI TV WORKOUT: Buti Yoga 482 with Deanna Lindley

DAY 7 // SHAMELESS SELFIE: AFTER EDITION
Oh, the celebrated after-pic! No matter what your reasons were for taking part in this challenge, we are all finishing together. Maybe you found your confidence, jump started your fitness routine or feel more at home in your skin — and for that, we are so proud of you for completing this 7-day commitment! Snap your shameless selfie and in the caption, share your transformation. How are you feeling after 7 days of radically loving yourself?
BUTI TV WORKOUT: DEEP 47 with Tiffany Baskett
PARTICIPATE + WIN EPIC PRIZES