2023 Love Yourself Now Challenge - Details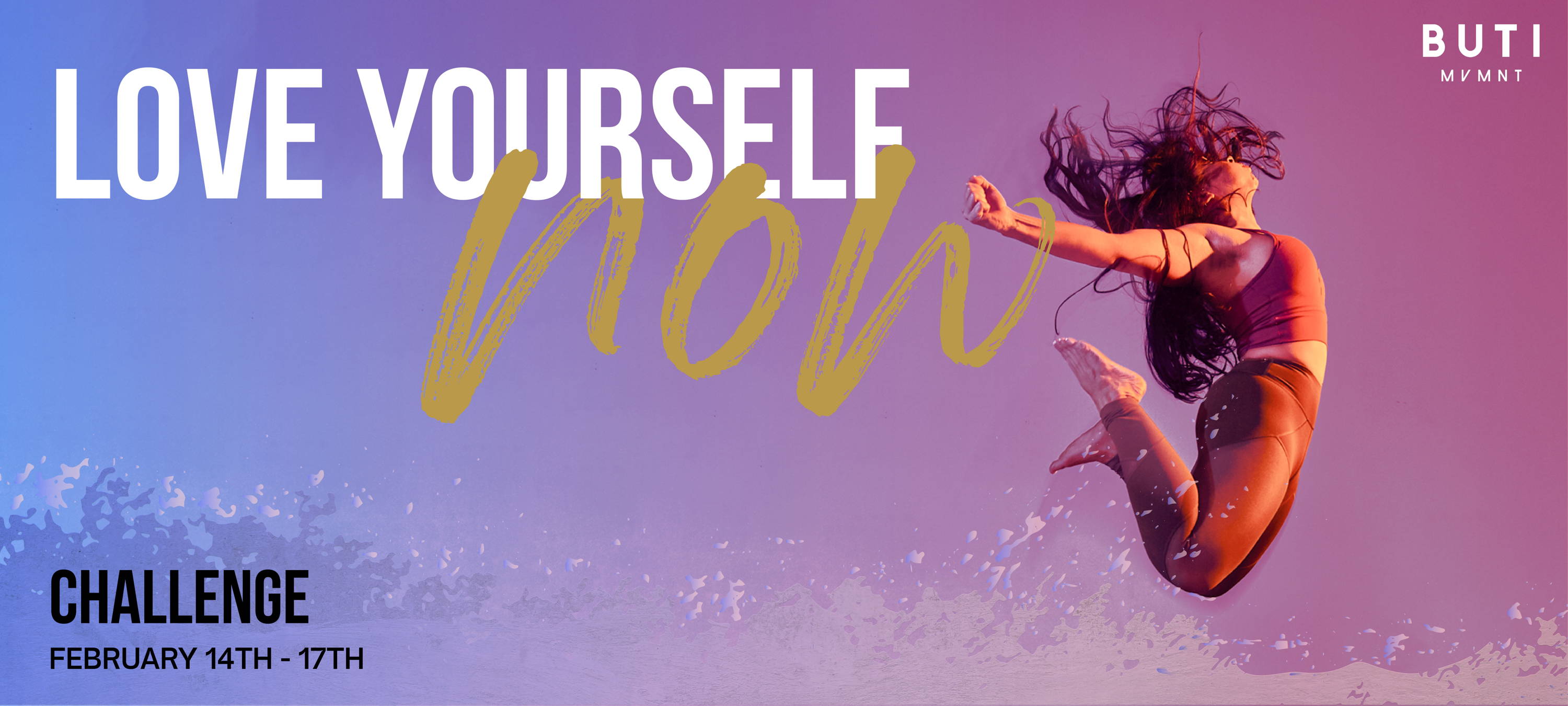 HERE'S HOW TO PARTICIPATE [+WIN]
🏆 :
HOW TO PARTICIPATE [+WIN]:
1.  FOLLOW THE SPONSOR + MASTER TRAINER HOSTS ON INSTAGRAM
@butimvmnt, @wholesoul.healing, @fit.movement, @rise.lorelei.rose, @namastandi
2. REPOST THE #LOVEYOURSELFNOWCHALLENGE "I'M IN" TILE TO YOUR FEED
Post to your feed, not your stories. This can be found by clicking here or on the @butimvmnt Instagram page. 
3.  POST THE DAILY PROMPT TO YOUR INSTAGRAM ACCOUNT 
 Post a picture or video as it relates to the prompt on your public Instagram account and answer the prompt in your caption.
4.  TAG @BUTIMVMNT + USE HASHTAG
 Use the hashtag #LOVEYOURSELFNOWCHALLENGE in each post. We encourage you to share your post in your stories, tagging @butimvmnt + using the hashtag. This will increase your visibility + your chances of receiving a prize.
5.  WINNERS ANNOUNCED MONDAY, FEBRUARY 20TH.
 Be sure to check the @butimvmnt Instagram page + your email.
DAILY WORKOUTS + PROMPTS: 
Workouts will be available starting at midnight PST on February 14th.

DAY 1 - TUESDAY, FEBRUARY 14TH
 Write a letter to your younger self (at an age you faced challenges), tell yourself how you got through it and how you now reflect on that time. 
Post a photo of you during this age. 
HOST: Rachel Cadrin - @wholesoul.healing
WORKOUT OF THE DAY: Primal Flow 33
DAY 2 - WEDNESDAY, FEBRUARY 15TH
 Share how you like to spend your "me-time". What centers you? How often do you do this? If you haven't been able to make time for yourself lately (we get it, life is busy), what is one thing you can incorporate into your week for "me-time"? Need inspiration, search #loveyourselfnowchallenge for what other Butisattvas are doing. Post a photo of you enjoying your "me-time".
HOST: Erica O'Callaghan - @fit.movement
WORKOUT OF THE DAY: Sculpt 19

DAY 3 - THURSDAY, FEBRUARY 16TH
Identify a part of you that could use more love. You know that part of your body or personality you are constantly talking negatively about. It can be physical or mental, but we know we all have a part of us, we are too hard on. Create a positive affirmation to send love to this part of you. Write the affirmation on a sticky or on a mirror. Share your affirmation in a selfie. 
HOST: Lorelei Miner - @rise.lorelei.rose
WORKOUT OF THE DAY: Buti Yoga 461
DAY 4 - FRIDAY, FEBRUARY 17TH
What words do you need to hear right now to believe that you are worthy of love? Repeat them to yourself out loud, then write them down on a piece of paper. Share how you feel after hearing those words + post a mirror selfie of you holding up with those magical words written boldly + unapologetically. 
HOST: Andi Carroll - @namastandi
WORKOUT OF THE DAY: Hot Vibes 10
GRAIN + DAIRY FREE RECIPES: 
RECIPE #1: "Breaded" Chicken + Greens
Prep Time: 10 min
Cook Time: 10  min 
Servings: ​4
CHICKEN:
3 boneless, skinless chicken breasts

2 eggs
1/2 cup almond flour
2 tablespoons coconut flour

1 teaspoon dried garlic

1 teaspoon sea salt (or truffle salt, if you have it)

GREENS:
2 cups greens of choice (collards, spinach, kale)

1 tablespoon olive oil

1 splash vinegar of choice
CHICKEN:
1. Preheat the oven to 400 degrees. Crack eggs into a mixing bowl and scramble.

2. Place almond flour + coconut flour on a large plate. Sprinkle the flour mixture with dried garlic and sea salt. Mix the flour so that all ingredients are evenly distributed.

3. Using a cutting board, slice the breasts into tenders (thin strips).

4. Place each "breaded" chicken tender onto a oven safe pan lightly coated in coconut oil. Cook for 25 minutes and check to be sure all meat is white, not pink.

SAUTEED GREENS:

1. Heat oil over med-high + add greens to skillet.
2. Sauté for 2-5 min (until bright and tender).
3. Add splash of vinegar + serve.
RECIPE #2: Glazed Salmon + Asparagus
Prep Time: 10 min
Cook Time: 10 min 
Servings: ​4
SALMON:
(4) 6-OZ fillets of salmon, boneless and skinless

3 tablespoons coconut aminos (or tamari)

2 tablespoons coconut crystals or raw honey

1⁄4 teaspoon ground ginger
1/4 teaspoon minced garlic
Pinch of sea salt and fresh cracked pepper

ASPARAGUS
1 bunch asparagus, trimmed + cut into 2-inch pieces
2 tablespoon olive oil

2 teaspoon fresh lemon juice

3 garlic cloves, crushed

GLAZED SALMON:
1. Preheat oven to 400 degrees F. Combine the aminos, coconut crystals, ginger, garlic, salt and pepper in a small bowl.
2. Place the salmon fillets in a baking dish and pour the marinade over the fish. Roast in the oven for 15-20 minutes until flaky, basting the fish every 5 minutes.

ASPARAGUS:

1. Preheat oven to 400 degrees F.  Toss all of the ingredients together in a bowl to coat.

2. Spread the asparagus on a baking sheet and roast for 10-12 minutes, stirring once.
Tip: you can roast these at the same time as the salmon to expedite the process.
RECIPE #3: Chicken w/ White Wine + Veggies
Prep Time: 10 min
Cook Time: 30 min 
Servings: ​4
2 tablespoon almond flour
1/4 teaspoon salt
1/4 teaspoon paprika
1/4 teaspoon ground black pepper
4 (4oz) boneless skinless chicken breasts
1 tablespoon olive oil
1/2 cup chicken broth
1/2 cup dry white wine
4 teaspoon macadamia nut cheese
Veggies of choice
1. Preheat oven to 350 degrees. 
2. Combine the first 4 ingredients in a shallow dish + dredge chicken in flour mixture.
3. Heat oil in an ovenproof skillet over medium heat.
4. Add chicken + cook for 2 minutes on each side or until browned.
5. Add broth and wine.
6. Bring to a boil then remove from heat. Cover and bake at 350 for 30 minutes or until chicken is done.
7. Sprinkle with cheese and serve with any veggies you like.
RECIPE #4: Turkey Meatballs


Prep Time: 5 min
Cook Time: 25 min 
Servings: ​4
1 lb ground turkey
3 tablespoons sea salt
1-2 teaspoon dried garlic
1 tablespoon coconut aminos
1/2 cup almond meal
1 tablespoon turmeric
Coconut or olive oil
1. Preheat oven to 400 degrees. 
2. In a large mixing bowl, add ground turkey, sea salt to taste, dried garlic to taste, almond meal and coconut aminos. 
3. Mix all ingredients together and roll into small meatballs. 
4. Grease a baking pan with olive or coconut oil. 
5. Place meatballs on the baking pan and bake for 25 minutes.
6. Be sure to check halfway through to flip the meatballs over. 

1st Place: Buti Certification of Choice (Excluding YTT)

2nd Place: Annual Buti TV Subscription
3rd Place: $200 Gift Card to Buti Yoga