Buti Summer Camp FAQ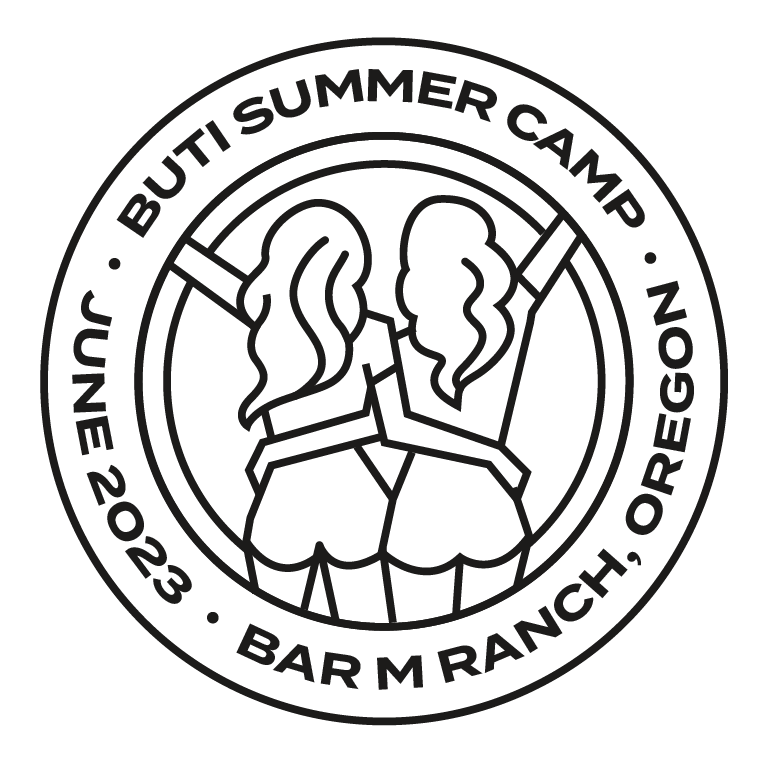 Buti Summer Camp
Frequently Asked Questions
Please take a look at the sections below to find the answers you're looking for. If you can't find what you're looking for or have additional questions, please don't hesitate to contact us at clientcare@butiyoga.com. We're always here to help!
1. Transportation questions
How will I get to and from Buti Summer Camp? 
Your Buti Summer Camp registration includes complimentary transportation from the nearest airport, Pasco Tri-Cities Airport in Pasco, Washington. Shuttles will be provided for certain times on Thursday, June 15th and on Monday, June 19th, 2023. We encourage you to give yourself extra time between your flights and the shuttle's pickup/drop off times, as we are unable to assist you further if flight delays occur. More information regarding our complimentary transportation will be shared by e-mail to registered Butisattvas at a later date.
I am driving or carpooling to Bar M Ranch. Is parking available?
Yes, parking is available! There are plenty of parking spaces available at the ranch. If you live in the Pacific Northwest, you are welcome to drive your vehicle to Buti Summer Camp. Carpooling is a great option to share the cost of fuel and start making friends before you even arrive.For directions to Bar M Ranch, check out this informational PDF. We recommend you save or screenshot the directions as you will lose cellphone service on your way to camp. 
2. Sleeping Arrangement questions
What are the sleeping arrangements like?
All sleeping arrangements will be organized by our dedicated organizational team at Buti HQ. Get excited about spending time in a rustic style cabin, with cozy warm blankets, + two tiered bunk beds filled with new friends.
I am hoping to stay in the same cabin as my friends. Is this possible?
We can't promise that we'll be able to accommodate your housing requests, though we will do our best. During the registration process, please note which other participant(s) you hope to stay with at Buti Summer Camp.
3. Participation Questions
What can I expect each day during Buti Summer Camp?
We will be making incredible memories together with 4 full days of master workshops, arts + crafts, and outdoor activities. Your inner child will be wild + free. You will feel like the person you were before life happened to you. We will be launching a detailed schedule in the near future. 
Can I opt out of an experience during the weekend?
Of course, you can rest or opt out of an experience. You won't be forced to do anything you don't want to. We have a flexible schedule throughout the weekend. There will be plenty of free time to explore the natural wonders of Bar M Ranch and experience outdoor activities such as canoeing or hiking on miles of trails throughout the grassland hills. Organize a game of volleyball or badminton on the sand volleyball courts, try Frisbee golf, or a round of HORSE at the basketball court. In addition, you'll find there are plenty of relaxing spaces if you need to create a quiet moment for yourself. 
I have a dietary need. Will I be accommodated during my stay at Buti Summer Camp?
We are able to accommodate limited dietary needs, including vegetarian and gluten-free. If you have additional requests, we recommend packing your own provisions. Please email ClientCare@butiyoga.com for any additional questions you may have about your dietary needs at camp.
Will Wi-Fi be included in my stay?
At Buti Summer Camp, our goal is to disconnect as much as possible with our every day lives and stressors. Bar M Ranch has no cell service or data coverage, so be sure to check in with all your loved ones prior to arrival and let them know you are disconnecting. If there is an emergency at home and someone needs to get in touch with you, we will provide an emergency number to all Butisattvas prior to your arrival. 
What do I need to bring with me?
What payment methods do you accept?
We accept a variety of payment methods including credit cards (Visa, MasterCard, American Express), PayPal, and Apple Pay, and Google Pay.
Do you offer installment payment options?
Yes, we offer installment payment options for certain purchases. Please check our website or contact our customer service for more information.
Is my payment information secure?
Yes, we take the security of our customers' payment information seriously. All transactions are processed securely and we use industry-standard encryption technology to protect your information.
Want to hear what other Butisattvas are saying about summer camp?
Click the button below.